Laughter is still the best medicine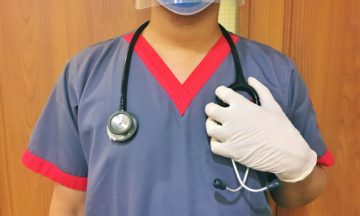 As a semi-retired surgeon nearing age 60, I was feeling a little helpless and frustrated at not being able to help the suffering and terrified people during the COVID-19 pandemic raging across the world! I expressed to my close friends (medical & non-doctors) the urgent need for structured support through Telemedicine and Tele-counseling to the people infected by COVID-19 and their families.
In fact, I said "We need an app as we have for taxi services. Any registered doctor with verified credentials can become the service provider. Anybody needing the help of a doctor can reach a qualified doctor easily when needed. The doctors should have the facility to turn on-off their availability. The backend system should allot the cases automatically. The location of the doctor should not matter; only the ability to communicate in a common language and empathetic support is required. The basic patient data needs to be captured and emergency situations efficiently handled. The patient should not however have access to directly call the doctor on their personal mobile and disturb them" 
And then StepOne happened!!!
It was like the universe heard me and some wonderful techies came together to launch the StepOne Project with a simple, easy-to-use mobile app with all these features! It has been a few months since I signed up. The teamwork and tech support provided has been amazing. For me, it is a very fulfilling experience and I feel so happy to be able to contribute from the comfort and safety of my home in my small way as a "COVID Warrior" without being a COVID-19 front-line doctor at the hospital.
To date, I have connected with about 2,500 positive-tested persons and their loved ones through the pan-India support system created by StepOne.
Very important for us voluntary doctors not to think of the people we call as sick patients or cases, as we are prone to in a hospital setting. We need to mindfully think of each one simply as a person who has a positive result on their Covid-19 test. As many (almost 75%) may be asymptomatic or have very mild symptoms. This allows us to connect with them heart-to-heart as fellow human beings and help them make the correct decisions about their care and recovery as well as quarantine guidelines to be followed. 
Keeping a cheerful but empathetic countenance and putting a smile into my voice when I greet the person when I make the calls was the key to an instant connection. Allaying their apprehensions with some simple observation about their pretty or unusual name or having a sibling or a friend by the same name or telling them that they sound so much younger than their age breaks the ice quickly. Being a patient and good listener is very important too.  Sensing their level of discomfort and the severity of the COVID symptoms becomes easier with practice. I always try to make them smile or laugh a little before the end of the call as I believe laughter is still the best medicine!
I look forward to sharing many amusing situations and funny conversations I have had with people from various walks of life, different age groups, and living in many different cities of India during my voluntary Work with the StepOne family. Ciao for now!