It is 7 pm when Mr R. Iyyer (78 / M) picks up my call. I hear Beethoven's 5th Symphony playing in the background as a deep voice says "Hello! May I know who is calling me?" I quickly introduce myself and state the purpose of my call is to inform him that his COVID-19 test is reported positive and that I would like to help him get the right treatment at the earliest. His age was a risk factor and I was preparing myself to persuade him to move to a Covid Care Hospital.
Instead he laughed loudly and said "Doc, please check the date on that report, I was positive last month and by God's grace, I have recovered after being admitted as an emergency case to the ICU when my SpO2 dropped suddenly to 72% and the ambulance rushed me to Hospital."
Possibly it was a data entry error that had issued this ticket to me as an emergency Covid case today. I apologised for the error and for having disturbed his musical evening with my call. He laughed it off and said, "Everything happens for a purpose, Doc. If you have some time I would like to talk to you." 
This was (in brief) our most interesting conversation: (Mr I is Mr Iyyer and Dr N is me):
Mr I: Do you believe in God?
Dr N: Yes, of course I do.
Mr I: Great, have you met God?
Dr N: Yes I have! Every sun-rise, every butterfly, each blossom and the innocent smile on a child's face connects me to the Divine every day! As a Sai devotee, I was blessed to meet Sathya Sai Baba.
Mr I: That is nice, but thanks to Covid-19 I have met my Lord Shiva in person and my life-long wish has been fulfilled in this unique way. I am a retired professor from IIT Madras and I am an ardent devotee of Lord Shiva. I have taken His blessings by visiting the 12 Jyotirlinga temples of India. However, I have not had the good fortune to visit Holy Mount Kailash and I feared my age was against me for that challenging Yatra. But as is often quoted "The Mountain came to Mohammad" and now believe it or not "Kailash came to Iyyer" thanks to Corona! Let me assure you I am not hallucinating or delusional in any way! Just hear me out….
When I was sinking into unconsciousness in the ambulance, I honestly felt my end was near. I prayed to Lord Shiva and surrendered to Him saying this beautiful Sanskrit Shloka in my mind
अनायासेन मरणं विनादैन्येन जीवनं ।
देहि मे कृपया शम्भो त्वयि भक्तिं अचन्चलं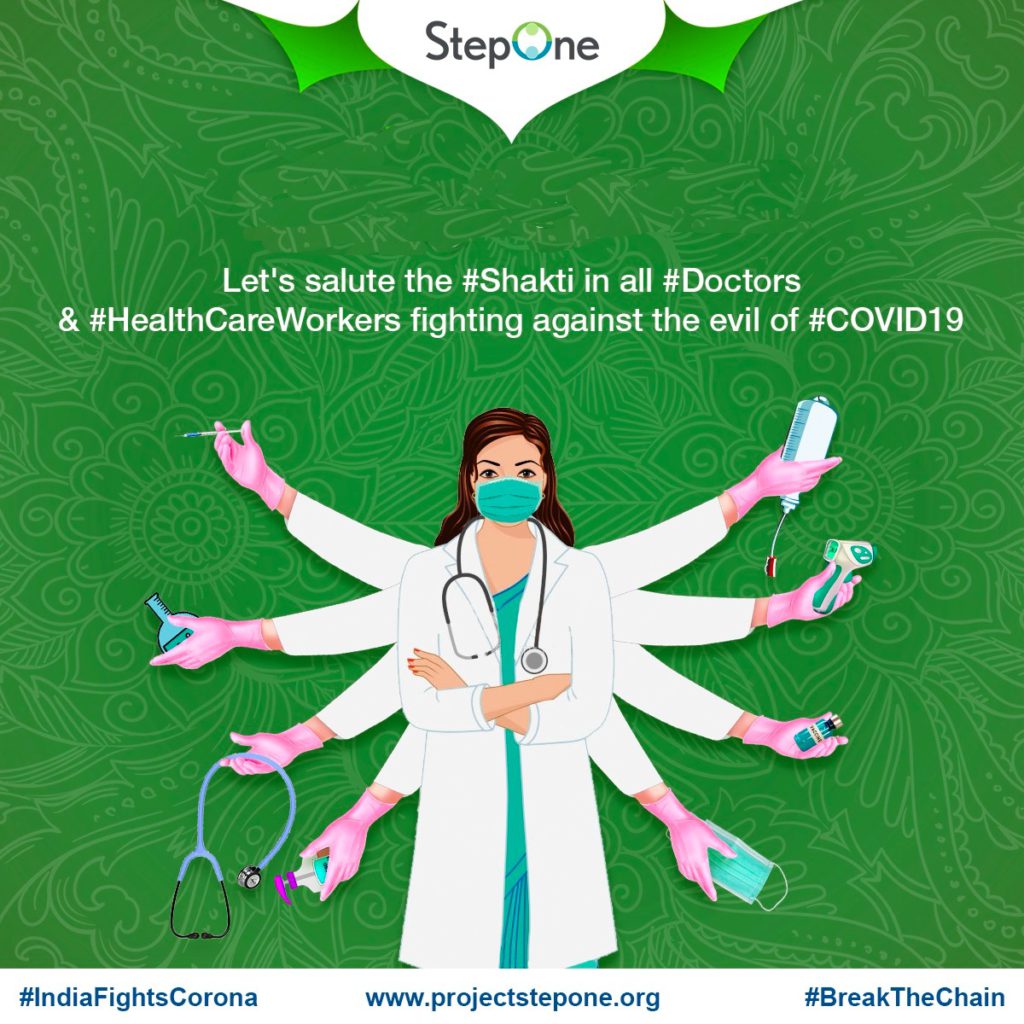 When I awoke in the ICU, I saw a very kindly-faced lady smiling at me, while she did multiple activities like adjusting my oxygen mask, changing my IV drip and a multitude of nursing activities. It seemed to me that she had 10 arms like Maa Durga. Behind her was a portly young man who had a long hose (looked like a nose) and he seemed to be sucking up stuff (probably a Vacuum Cleaner) but looked like the Lord Ganesha to me.
Then came the Lord Neelakantha himself to my bed and assured me that I was going to get well and go home soon! This was the ICU Doctor wearing a PPE that caused him to have a blue throat and the black stethoscope around his neck was quite snake-like in appearance! 
I interjected…
Dr N: , Sir I am happy you recovered from complications of COVID-19 and it is quite natural to attribute this miraculous healing to your favourite God. But I did not quite understand your earlier reference "Kailash came to Iyyer" Many patients refer to doctors as God, but we are just blessed humans!
Mr I: Doc, let me complete my narrative. When I was moved to the recovery room and I was alert and able to talk to the staff, I asked about the people who had cared for me and brought me back from the brink of death. I found out that I was admitted at the KAILASH Hospital, their ICU in charge was a Dr. Shankar Prasad, the ICU head nurse was named Mrs. Parvathi Shankar and the chubby young house-keeping boy who worked in the ICU was called Gaju, short for Gajanana.
Now I hope you are convinced that I did indeed meet God in three human forms.
ॐ नमः शिवाय !