Children's emotional well-being
 A myth or a discourse to engage with
The COVID-19 pandemic is stressful and has come up with a bucket of problems and challenges associated with health domains. One of the significant adversities that the COVID-19 pandemic poses is emotional wellbeing. 
Emotional wellness has always been a stigmatized health issue in India and is usually seen with a sore eye. If one talks about children's emotional well-being, most parents see it as nonsense as they feel how a child can experience stress. I remember talking about one such incident around emotional wellness to my aunt last week. She told me about my 10-year-old cousin, who has got a lot more irritable and troublesome since lockdown.
I told her she might be facing stress from lockdown and she should look for counseling, and she told me, are you crazy! How can a 10-year-old get stressed? I told her about issues of emotional wellbeing that children can face and how to resolve them. But the main thing to notice is the stigma and the complete lack of understanding of emotional wellbeing. Awareness is crucial in these critical times, and how the issues can be resolved is very important. Let's see what the professionals have to say on this aspect, in the Project StepOne #WarriorDiaries: Fireside Chat 4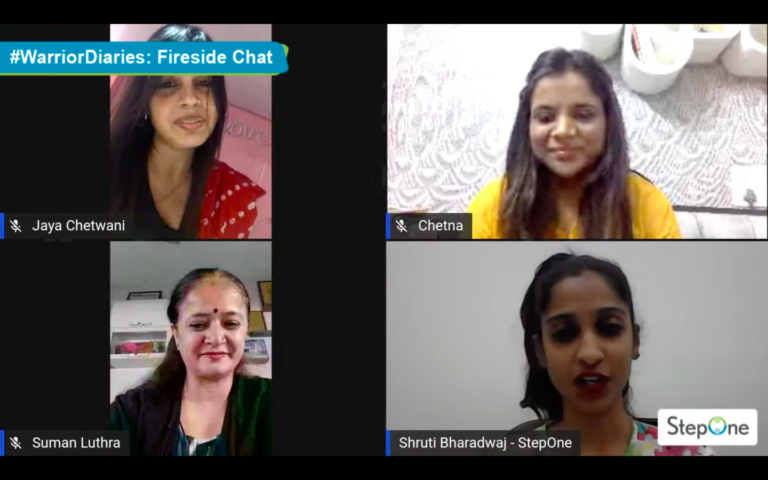 Chetna Aggrawal, a counseling psychologist who is volunteering with Project StepOne since June 2020, has attended 1000-1500 calls during the lockdown. She talks about emotional health issues that she encountered in these calls, like loss of appetite, reluctance to work, sleep problems, tantrums, and flickering of fingers. The most important thing for the resolution of the symptoms is that parents should keep a keen eye on their occurrence. The Fireside Chat has more methods from Chetna on how parents can channelize children's energy and help deal with children's' changed behaviors. Chetna describes a learning experience on how she helped a 12-year-old whose whole family had contracted COVID-19.
Suman Luthra, Senior Nursing Officer, ICMR, shares her experience at Project StepOne. She joined StepOne in April 2020 and has attended more than 2500 calls so far. Suman shares that this has been a turning point in her life. She has talked with several children and shares various ways of keeping children engaged, address issues, and instill hope in them. Some methods are diary writing, helping with household chores, hygiene practices, fitness routine, connecting with relatives, siblings, friends through technology, and parents to focus on what to do rather than what not to do. In the Fireside Chat, Suman shares how a certain call made her think about how distressing this lockdown can be. And how she helped a 16-year-old girl who had a breakdown and was having suicidal thoughts. Suman shares that socio-economic conditions can aggravate the situation and so community support and conversations with people are critical in these challenging times.
Jaya Chetwani, a special educator and counselor, volunteering with Project StepOne since April 2020, has provided stress counseling to over 3000 individuals. According to her, children and youngsters are more prone to separation anxiety due to not being in contact with peers, teachers, and places where they usually spent most of the time before the pandemic. Jaya describes the several problems on the emotional front that this anxiety can lead to. And how parents can understand and manage this low tolerance children have, for uncertainty. The  Fireside Chat has an interesting strategy by Jaya on how she helped an 8-year-old child located in a containment zone with normalizing her time.
Knowing what all these experts have to say about children's emotional wellness, I encourage all parents to be attentive to children's emotional needs, acknowledge them, and help them deal with the situation. 

About the Author
Nidhi, a volunteer with StepOne, has completed her bachelors in B.Sc. Home Science and masters in M.A. Education. She works in the domain of child development and learning. She is currently pursuing the Ideosync-UNESCO Information Fellowship (IUIF).